Building a new house last year, meant that I had the opportunity to purchase the latest and greatest cooktop and oven.
I was lucky that the builder had a 90 cm oven as standard equipment and I do love it. I do like to bake a lovely morning tea so the oven get used a lot.
The cooktop in the house design, was gas as a standard addition, and I fondly remembered the teenage days of cooking on an ancient 'Kooka' gas stove, in my 'haunted' house – highly efficient and reliable. However….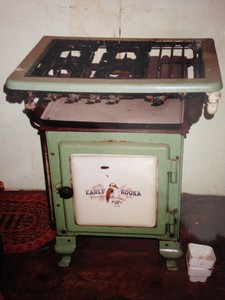 I worked out pretty quickly that gas wasn't great for someone living in the tropics. The phrase sweating away over a hot stove, was more real than I would care to admit, when I discovered the open flame of the gas cooktop, I was cooking with in my rental accommodation, caused the ambient temperature in the kitchen on a 36 degree celsius, overly humid, day to ignite to levels bordering on purgatory.
Thus, an upgrade to induction cooking seemed like a sensible move than a gas stove.
The trouble is I had to purchase all new cookware as not all saucepans operate with the induction technology, which requires saucepans to be magnetic, to work.
I splurged a little and purchased two new non stick Induction friendly frypans, one a Raco and the second a Tefal Jamie Oliver style pan, as well as three beautiful induction freindly, non-stick saucepans, a lovely set made in France by Ingenio, with a detachable handle that could be used in the oven or cooktop, or served at the table.
So versatile, I thought.
Imagine my schock when I read that there was a problem with non-stick cookware.
A big problem….
Someone in the Estate by the Sea, where I live, had three parrots that lived inside their home. The owner was cleaning his self-cleaning oven, last week, which requires turning it to its maximum heat for an extended time in order to self clean the interior walls, of the oven.
Suddenly all three of his large parrots, including an African Grey parrot, (which can live to 200 years), developed breathing problems and died within 20 minutes of each other, ostensibly from the polytetrafluoroethylen fumes, emitted from the oven in its self-cleaning mode.
To back up his claim I did a little research:
…. the material used in most nonstick cookware, …the polytetrafluoroethylene (PTFE) coating on the pans turns into toxic Perfluorooctanoic acid (PFOA) at high heat, making it dangerous both for the cook and for diners.

It was in 2004 that the American Environmental Protection Agency (EPA) discovered the potential cancer-causing chemical used in the production of Teflon and filed complaints against the maker, DuPont.

http://www.goodfood.com.au/good-living/whats-deal-with-nonstick-cookware-are-they-safe-20160801-gqitvd
At that time, a synthetic chemical called perfluorooctanoic acid, known as PFOA or C8 for short was used in the production of Teflon, however, it was phased out in the USA, in 2013 as PFAS chemicals, which includes PFOA and PFOS, had been linked to cancer and numerous other health concerns.
Despite DuPont completely eliminating the use of PFOA from use in their products, according to a spokesperson for the Australian Competition and Consumer Commission (ACCC), there is a wide range of products supplied in Australia that still include the related chemicals.

http://www.goodfood.com.au/good-living/whats-deal-with-nonstick-cookware-are-they-safe-20160801-gqitvd
A very concerning revelation.
This week, I purchased a PFOA free frypan and worryingly note the Ingenio saucepans are now a discontinued product, in the larger retail stores. I shall have to ensure these saucepans are never used on high heat or should I ditch them and get stainless steel, all over again, for the Home by the Sea?
Do you use Non stick cookware, or use water resistant, stain resistant products?